Overview
This is an example consultation for demonstration purposes only. This site is operated by Delib Ltd and submitted responses will be discarded.
This page contains a summary of our proposals.

The East-West route is proposed to run through Hyde Park as it provides an attractive route between Hyde Park Corner and Lancaster Gate, with space to physically separate cyclists from other road users.
Hyde Park already has a number of cycle routes which are very popular including the Broadwalk, Serpentine Road and Rotten Row; however they're shared with a large number of pedestrians and are subject to disruption during the many events within the park.
To provide a high quality, dedicated facility for cyclists the Cycle Superhighway would follow South Carriage Drive and West Carriage Drive between Hyde Park Corner and Lancaster Gate, providing a two-way fully separated track for cycles. This would also connect with proposed Quietway routes to Kensington and Exhibition Road.
A two-way cycle track would be provided on the southern side of North Carriage Drive to provide a connection between West Carriage Drive and Speakers' Corner.
Cyclists will still be able to enjoy riding on existing cycle routes within the park following the introduction of the East-West Cycle Superhighway.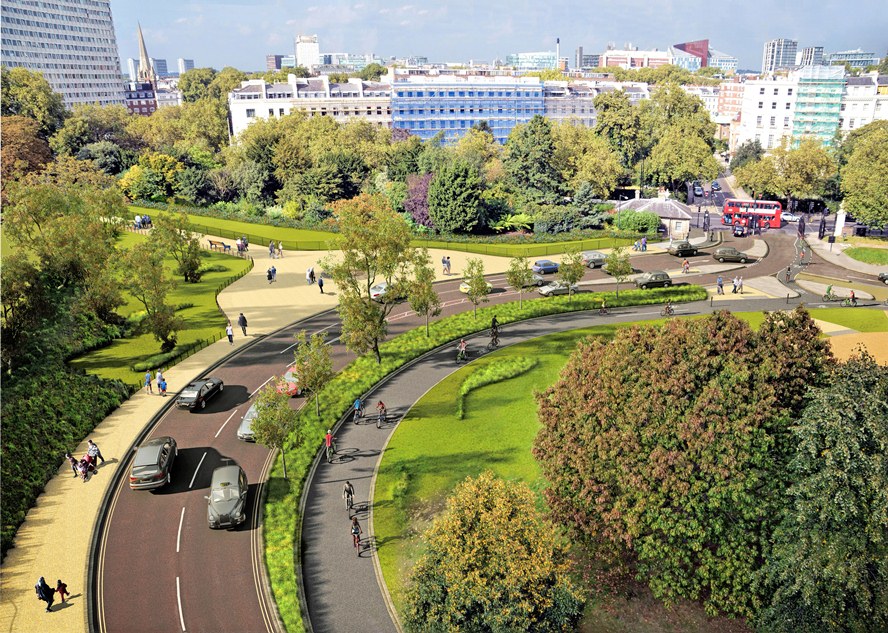 Artist's impression. Looking towards the northern end of West Carriage Drive, approaching Victoria Gate.

The key features of the East-West Cycle Superhighway in Hyde Park would be:
Segregated two way cycle tracks would be provided on South Carriage Drive and West Carriage Drive
Dedicated cycle track would be provided along North Carriage Drive to assist cyclists travelling to and from Speakers' Corner
North Carriage Drive would be made one way eastbound to vehicles (except cycles) to enable a simplified T- junction at West Carriage Drive and North Carriage Drive (Victoria Gate). This would also enable part of the existing highway to be turned into up to 600 metres2 of additional park land
Junction improvements at the entrances to the park from Hyde Park Corner
Appropriate lighting, paving, planting and other improvements to enhance the enjoyment of the park for cyclists and other park users
High-quality materials to enhance the look of the park environment and reflect their importance and heritage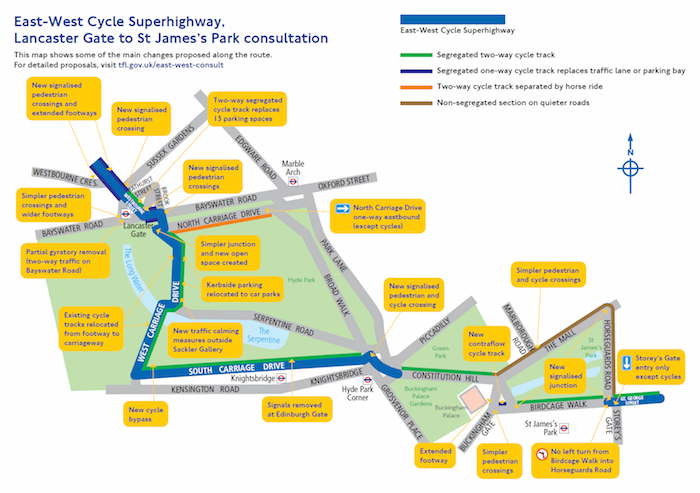 East-West Cycle Superhighway - Lancaster Gate to St James's Park (PDF)